15 June 2022
'Eureka moment' for HER-2 low metastatic breast cancer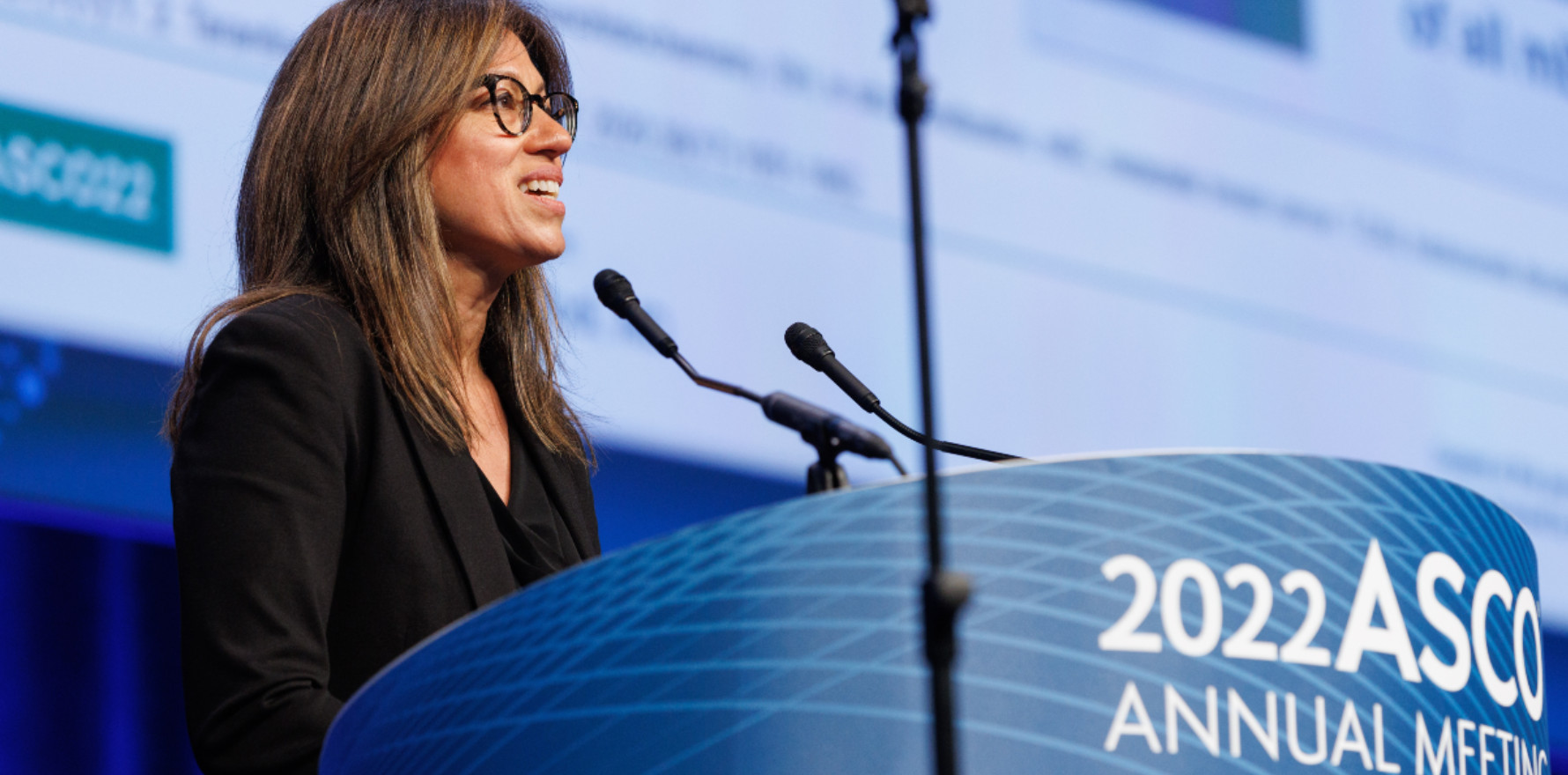 "Extraordinary" and "paradigm shifting" is what oncologists are calling the findings of the HER-2 targeted metastatic breast cancer trial presented at ASCO 2022.
Associate Professor Shanu Modi was given a rare standing ovation stage when she presented the findings from the trastuzumab deruxtecan randomised phase 3 trial, known as DESTINY-Breast04.
The trial showed around double the survival rate for HER-2 low metastatic breast cancer patients than with chemotherapy, and with lower side-effects.
"I guess that it was well received". #ASCO22 standing ovation for the T-DXd results in HER-2 low breast cancer pts. Historic moment that only in person attendance offers. Welcome back @ASCO @OncoAlert pic.twitter.com/weBG6tQ4Au

— MikaLion (@MichalisLiontos) June 5, 2022
"These findings have the potential to impact survival for approximately 50% of all patients diagnosed with metastatic breast cancer today," said Professor Modi.
Up until now, HER-2 low cancer has been treated as HER-2 negative breast cancer, with therapy guided by hormone receptor status. Once these patients have tried endocrine therapies and the few available targeted agents, there's not much left except for chemotherapy, which has small effect.
"We demonstrate for the first time that a HER-2 targeted therapy, trastuzumab deruxtecan, produces statistically significant and clinically meaningful improvement in progression-free survival and overall survival for patients with HER-2 low metastatic breast cancer," Professor Modi told the assembled crowd.
All 557 patients enrolled in the study, including 63 people who had hormone-negative disease, had previously received one or two lines of chemotherapy.
The median progression-free survival rate was demonstrably better for the two-thirds who received T-DXd – 9.9 months versus 5.1 months – compared with those who were given standard chemotherapy. Overall survival was 23.4 months compared with 16.8 months.
The median progression-free survival rate for the 494 HER-2 low hormone receptor-positive patients in the study was 10.1 months for the T-DXd group compared to 5.4 months for chemotherapy. Overall survival was 23.9 months for the first group and 17.5 for the second.
Triple negative patients had a median progression-free survival rate of 8.5 months in the T-DXd group compared to 2.9 with chemotherapy, and 18.2 months overall survival, more than double the chemotherapy group's 8.3 months.
"The confirmed overall response was threefold higher with T-DXd. The clinical benefit rate, which includes stable disease for at least six months, was also twice as high with T-DXd," said Professor Modi.
Adverse events of grade three or higher were less frequent for the drug therapy group, than the chemotherapy group's (52.6% versus 67.4%). Nausea was more common in the T-DXd group, but mainly grades 1 and 2.
Importantly, 12.1% of the T-DXd group suffered interstitial lung disease and pneumonitis, with 0.8% of those at grade 5, and three reported deaths.
"Lung toxicity is an important toxicity of T-DXd and requires awareness, vigilance and early intervention," Professor Modi told the conference.
Breathtaking results from DB04 presented by Shaun Modi. Benefit for T-DXd irrespective of subtype & 1+/2+ IHC results

A paradigm shift that breaks through traditional subgroup classification deserving of the standing ovation!!!#ASCO22 @OncoAlert pic.twitter.com/nFYYNRijtU

— Sara Tolaney (@stolaney1) June 5, 2022
"The results of this trial clearly will be practice changing," conference expert commentator Dr Jane Lowe Meisel said at the press conference. "Everyone who's used it in our clinic undoubtedly has seen some patients even with significant burdens of disease have their cancer melt away with this agent… This is really just a huge win for our patients and for the oncology community."
Professor Michael Friedlander, Director of Medical Oncology at the Prince of Wales Cancer Centre in Sydney, called the trial findings "a Eureka moment".
"I found this study extraordinary. It felt like when we heard the results about Herceptin presented for the first time at ASCO. I can see this really transforming our approach to treatment," he said.
Antibody drug conjugates are already used in the treatment of triple negative breast cancers, but Professor Friedlander said the results seen in the HER-2 low population were "extraordinary".
"Patients had many prior lines of therapy. About 75% had liver metastases. Many of the hormone receptor positive patients had a prior CDK4/6 inhibitor such as palbocyclib or ribocyclib. And despite this, they saw response rates significantly higher than we would see with standard of care," he explained.
"We've seen almost a doubling of the median duration of response and much longer progression free survival and overall survival improvement, which you hardly ever see in this line of treatment. It's really, really hard to improve overall survival after multiple lines of treatment."
An extra five to six months may not sound like much, Professor Friedlander acknowledged.
"I wish it could be a lot better, but when we see drugs that work very well in the advanced stage setting, if we use them earlier, we will probably get even better results," he said.
Professor Friedlander said there was much to learn before using the new treatment. "But we can learn fast," he added.
Meanwhile, Enhertu (the commercial name for T-DXd) is not yet registered in Australia.
Manufacturer AstraZeneca told Oncology Republic that it was granted provisional registration by the TGA in October 2021 for the treatment of adult patients with unresectable or metastatic HER2-positive breast cancer who have received two or more prior anti-HER2-based regimens.
"We are in ongoing discussions with regulatory authorities worldwide, including the TGA in Australia, regarding the registration of T-DXd for other indications and will provide updates as they become available," a spokesperson said.
AstraZeneca also noted there are currently three clinical trials with T-DXd open in Australia: DB06 and DB08 – investigating HER2-low metastatic breast cancer– and DB12 looking at HER2-positive mBC.
"Clinicians seeking information about these trials should contact AstraZeneca's Australian medical team for Enhertu," the spokesperson said.
Professor Friedlander said he anticipated that worldwide demand for the drug would be high, and it would ultimately have benefits beyond the treatment of breast cancer.
"HER2-low is seen in multiple tumours; it's right across the board. You can see it in uterine, gastric, lung and ovarian cancers, etc. So this kind of approach is likely to be effective across multiple tumor types," he said.
"This is a landmark paper that people will be referring to for a very long time."
Main image: Photo: 2022 ASCO Plenary Presenter Dr. Shanu Modi. Photo by © ASCO/Scott Morgan 2022.