9 March 2022
Practice submerged, but the skeleton survived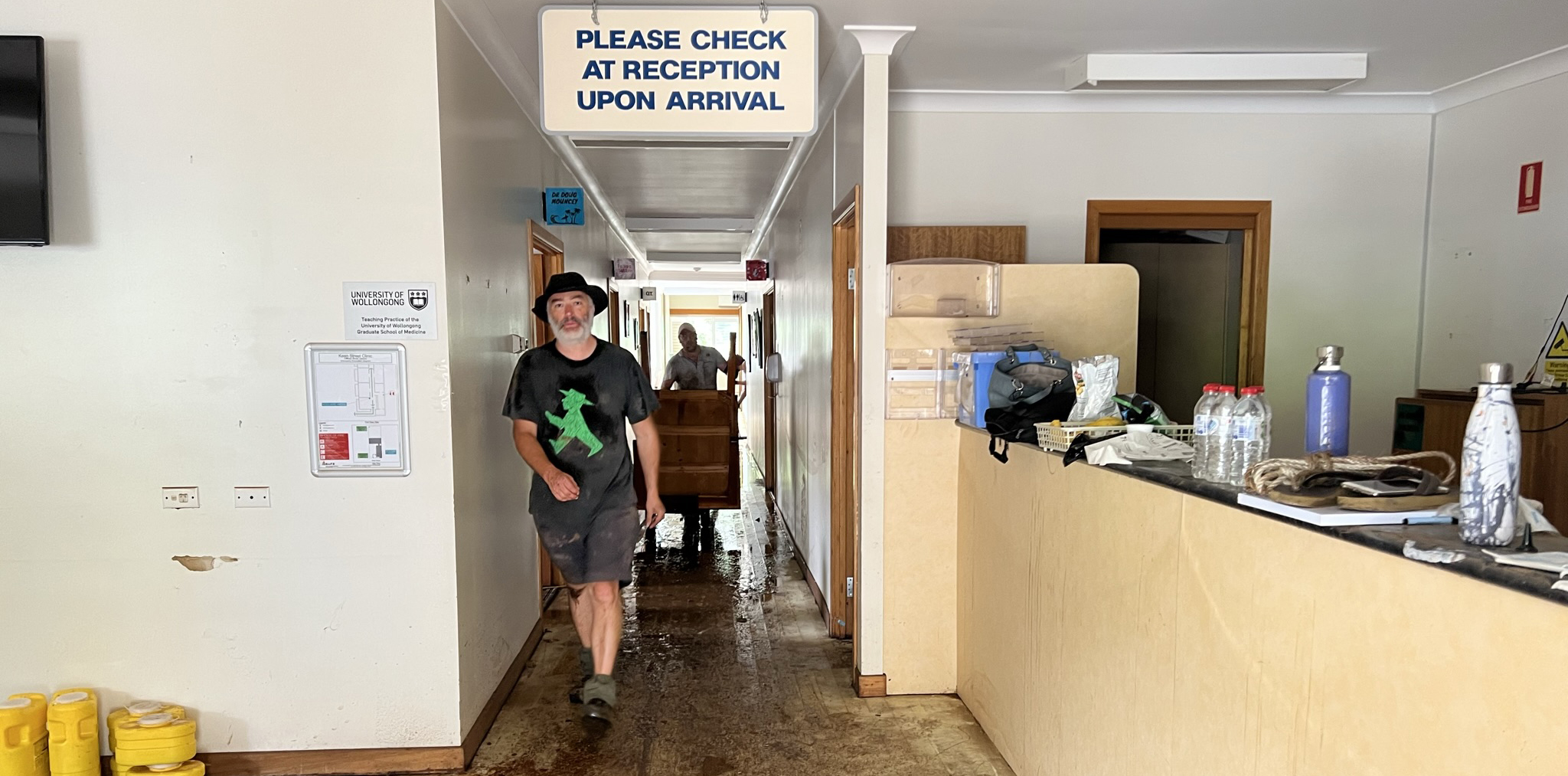 Every day that Lismore's Keen Street Medical Centre remains closed, the community suffers, says Dr Nina Robertson.
The water went up to the second storey of the clinic, which had not flooded before.
In the week or so since the deluge started, the Lismore GP has alternated between helping out at an evacuation centre, cleaning out the flooded Keen Street practice where she worked, organising a temporary office and applying for flood-relief grants.
"We have 30,000 patient files and 8000 active patients who have been seen within the last two years," Dr Robertson tells The Medical Republic.
"At our clinic, we did 7500 covid vaccinations, we have a lot of Aboriginal and Torres Strait Islander patients and we do a lot of chronic health management."
Lismore MP Janelle Saffin has called for category D disaster assistance that covers public infrastructure to cover private as well, which would allow small businesses like Keen Street Medical Centre greater access to funding.
"This is a public health crisis, and if [the government] does not fund private companies like our GP practice to rebuild, then – in view of this public health crisis – the entire community suffers," Dr Robertson said.
Dr Robertson has seen some of that suffering first hand over the last week, having set up a temporary "medical-centre-slash-pharmacy" at the Goonellabah Sports and Aquatic Centre.
"I basically walked in after we stopped getting people off the boats and said, 'I'm a doctor, does anyone need anything?' and I was kind of grabbed," she said.
The first few hours she spent helping people with hypothermia get hot showers and putting socks on elderly people, before going around the hall making a list of people who had left medications behind.
Eventually, the Sports and Aquatic Centre staff found her a spare room to set up a makeshift clinic.
"The first challenge, clinically, was that people had lost all their medication and had no idea what they were on," Dr Robertson said.
"Some people had also lost their identifying documents, and I don't know about you, but I don't know my Medicare number off the top of my head."
With wallets having literally floated away, Dr Robertson had to work with names, dates of birth and addresses – even then, some of the elderly evacuees were in shock and unable to remember key details.
Further complicating matters was that five pharmacies had gone under in the flood.
"In trying to sort out what people's needs were, they would say to me, 'I don't know what I'm on, but you ring Southside Pharmacy and they can tell you what I'm on,' and I had to say them, 'no, no, they're under water too,'" Dr Robertson said.
And then the seizures started.
"I've never seen so many people have seizures in that short amount of time," the Lismore GP said.
"That was partly withdrawal from medications that that people just didn't get [despite our best efforts to source emergency supplies]."
Amid the mayhem, Dr Robertson also saw people with chest pain, insulin-dependent diabetics and veterinary emergencies.
She left the evacuation centre last Wednesday, after word reached her that the practice in Keen Street was now safe to enter.
About 95% of the practice's equipment was unsalvageable.
The 5% that did remain was mostly random – plastic waiting room chairs, two sets of scales, framed certificates, cryotherapy canisters and a lifesize model of a skeleton.
"Apparently, they're very hard to come by now so the older doctors at the clinic were quite determined that he stays," Dr Roberston said.
She'll be keeping her fellowship certificate (complete with high-water mark) on the wall when the clinic eventually reopens.
For now, the clinic will be temporarily moving into a space with limited consultation rooms at Lismore's St Vincent's Hospital.
Dr Robertson said it was their "intention to try" and move back to the Keen Street location once it was restored.
Ballina-based general surgeon Dr Susan Velovski – who, as it happens, was Dr Robertson's supervisor in her resident years – said her rooms had only narrowly escaped flood damage.
"Fortuitously, my rooms were about a metre above the rest of the business district because we have to have a patient ramp – thank God for the patient ramp," Dr Velovski said.
"[The water] went up the ramp, but no further."
Although her rooms were untouched, Dr Velovski was stranded at her home in the nearby town of Wardell without internet, electricity or running water for about a week.
When she could leave, she spent time seeing patients at service stations and evacuation centres.
"We just had to be a little bit creative – one pharmacist flew in some drugs for us via drone," she told TMR.
"I was happy to be the drug mule on that one."
Clinically, Dr Velovski said she saw people with cuts and abrasions from having been evacuated without shoes, or who had only grabbed one pair of (now very damp) sneakers.
"I was mainly just on the ground, making sure people had clean water, looking after the wounds and trying to get people their meds," she said.
"It was also about realising, as a surgeon, how many medications there are where you've forgotten what they're for without Dr Google in your clinic."
A previous version of this article said the clinic had flooded before, this is incorrect and has been updated in copy.