15 June 2022
How close should you get to other conference goers?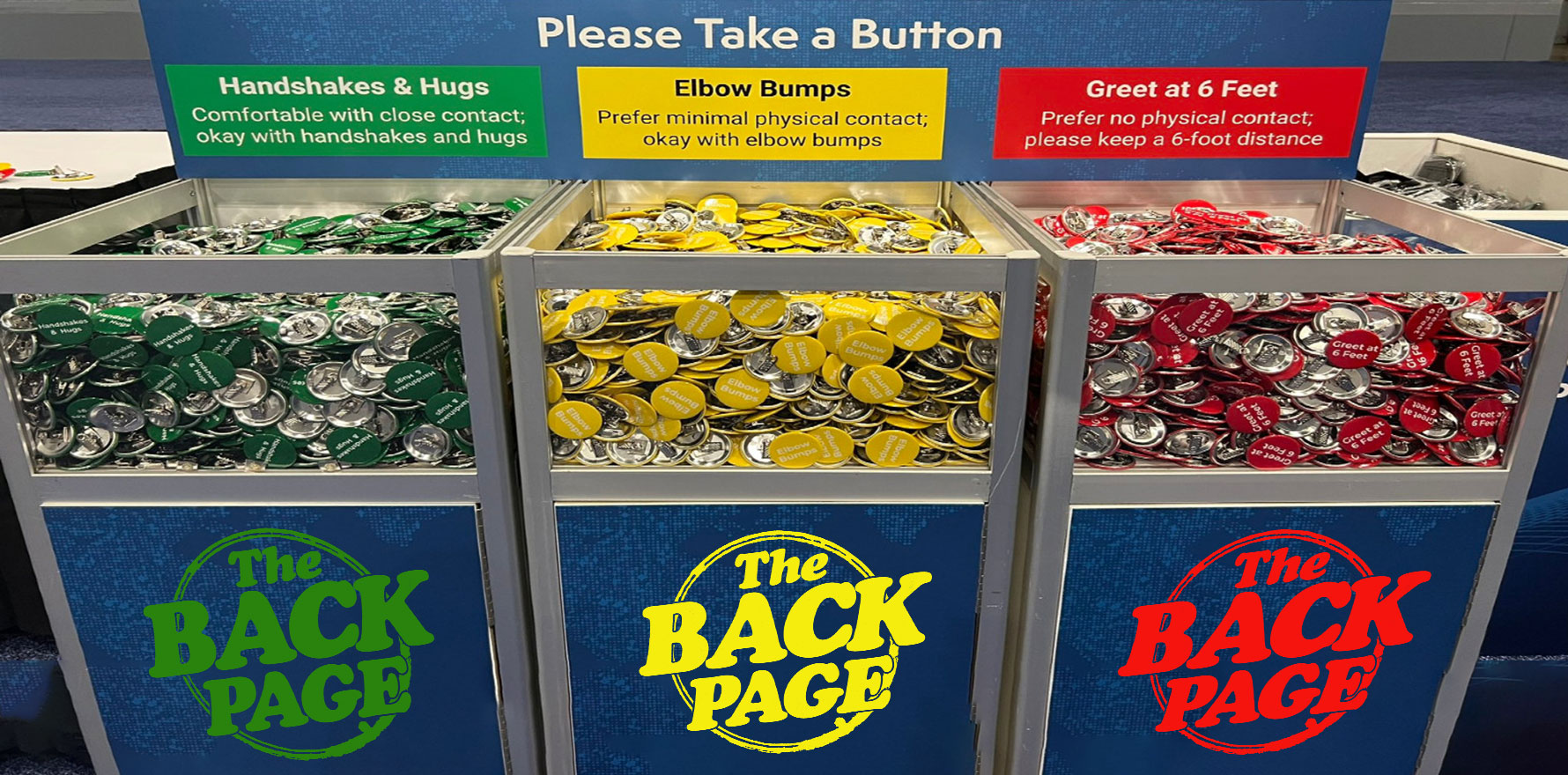 The biggest event on the oncology calendar, ASCO 2022, was back in the flesh this year.
It was, of course, complicated – at least as far as pressing that flesh actually went.
But the people of the American Society of Clinical Oncology anticipated the possible confusion and deployed a traffic-light system. A green button pinned to your good self signified you were "comfortable with close contact; okay with handshakes and hugs". Next stop, yellow for slow down: elbow bumps ok but "prefer minimal physical contact". And finally, red: "Greet at 6 Feet: Prefer no physical contact; please keep a 6-foot distance."
One could argue that as the buttons were only the regular favourite-band size and not the jumbo Today-I'm-2 variety, it might be a struggle to read the latter before you'd already breached the perimeter.
In fact, the well-intentioned provision generated a lot of controversy.
"I really hate this," one commentator tweeted (a not uncommon sentiment). "The least problematic thing about it is that the red and green buttons look identical if you're colourblind. [And] honestly, as a woman at this event, what do you think's going to happen if I wear a 'hug me' badge?"
For every person who hated the buttons, there was someone who wanted more – one saying "treat me like your sister", one for "demanding hugs", an entire class for those wanting an "individual-specific differential approach".
Green appeared to be the frontrunner on day one, but by day two the stock of yellow buttons was depleted, with the red seemingly the least popular option.
…and by Day 2, it gives an interesting poll of how we want to interact with colleagues.

Elbow bumps win, it seems. pic.twitter.com/xct8ATahId

— Tom Newsom-Davis (@tnewsomdavis) June 5, 2022
"I haven't actually seen any red badges in the wild," noted an attendee. "Probably because people needing to be careful about covid simply didn't attend an event not requiring masks," someone else replied.
The colour red was taken as rather judgemental of the social distance stance by some, who suggested a colour swap.
Many felt that the wrong actions were lumped together – "Oh no, why are handshakes and hugs together? Covid aside, at conferences I'd be okay with handshakes but would pretty much never want a hug."
Others confessed they'd acted without button consent: "I think we actually hugged before I confirmed you were wearing the green button!"
The question of whether hugs belonged at all was well covered. "Hugs?! At a conference?!" versus "I have definitely enjoyed a fair few conference hugs over the years with dear friends I've just been reunited with after who knows how long."
But perhaps the most frequent reaction was wondering whether it would be possible to switch buttons according to who was approaching – maybe not entirely in the spirit of conference collegiality, but certainly understandable by anyone who's ever interacted with the human species.
The only expressed opinion that came close was that this was a system many would welcome, conference or not, covid or not. Judging from the response, it's likely we'll see it again, either on the conference circuit, or on the lapels of ASCO attendees who can't bear to let go of the certainty just yet. 
If you see something that pushes your buttons, poke penny@medicalrepublic.com.au. 
Main image: Professor Gerry Hanna