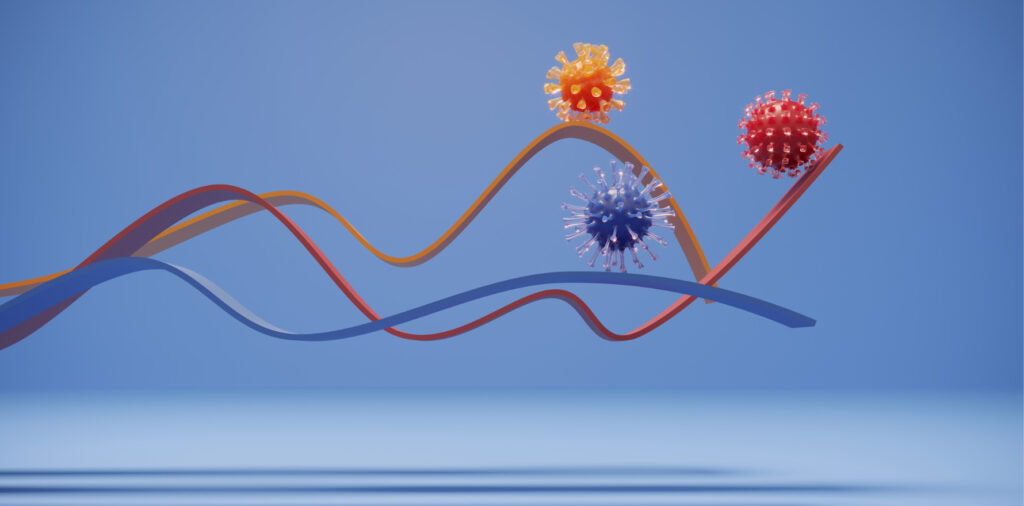 The highly infectious Omicron variant of covid hit our shores just as many pandemic restrictions were lifted around the country. The predictable outcome saw hospitals swamped and testing and tracing capacity outstripped, while high levels of community transmission raised concerns for medically vulnerable people with limited vaccine protection against the virus.
Now covid treatment options look increasingly promising, with a range of drugs now either approved, provisionally approved or under evaluation that could potentially reduce risks and avert serious outcomes for vulnerable people.
But supply issues will mean tough decisions for physicians.
Sotrovimab first choice for immunosuppressed covid patients
Queensland-based rheumatologist Dr Claire Barrett says that the monoclonal antibody sotrovimab, given in a single IV infusion, is first port of call for physicians in Queensland who have vulnerable patients testing positive to covid.
"The Health Minister said last year there were 81,000 doses of sotrovimab, but we are already hearing of shortages," she says.
As caseloads climb, it has become harder to secure sotrovimab – meaning tough decisions about who gets it. Rheumatologists are now getting calls daily from patients newly exposed to covid.
"Access [to sotrovimab] is variable even within Queensland, with some hospitals having a dedicated infectious diseases physician to contact and others being told to send patients to the ED," Dr Barrett says.
The TGA's provisional approval in August 2021 recommends sotrovimab for patients with confirmed infection who are at high risk of complications, particularly those with multiple comorbidities, including diabetes and/or asthma requiring medication, obesity, chronic kidney disease, congestive heart failure and chronic obstructive pulmonary disease.
In response to burgeoning supply issues, the National COVID-19 Clinical Evidence Taskforce published a consensus recommendation in January 2022 for the use of sotrovimab based on the patient's individual risk of severe disease, their age or multiple risk factors, and covid vaccination status.
The consensus statement noted that sotrovimab should only be considered for unvaccinated or partially vaccinated patients, and in patients who are immunosuppressed regardless of vaccination status.
Dr Barrett says sotrovimab is the most commonly used drug, and patients tolerate it well with few side effects – but others are edging into more common use now.
"I have a patient in north Queensland who was given casirivimab + imdevimab (Ronapreve), possibly because in theory the predominant variant might still be Delta. But the waters are a bit murky as the testing for variants is not happening," she says.
One challenge with sotrovimab and a range of other provisionally approved oral monoclonal antibodies, including molnupiravir and casirivimab + imdevimab (Ronapreve), is that the drug must be administered within five days of symptoms.
"The previous situation, when we had a five-day delay to get a PCR result, was challenging, but most hospitals now accept a rapid antigen test result," Dr Barrett says.
Dr Barrett says that while there's promising treatments on the horizon already being used on patients in the US, Australian physicians don't have a lot to choose from just yet.
"The oral medications that just got a TGA approval may be important – but it is all about supply," she says.
"An oral medication would be a potential game changer for regional, rural and remote patients – but let's hope our patients are not going to be promised something that won't be delivered."
What's in play in the ICU
Dr Marek Nalos is director of the intensive care unit at Goulburn Hospital and a senior consultant in ICU at Liverpool hospital in Sydney's south-west.
He says that the contrast between the impact of covid on the two hospitals is huge – Liverpool is in a metropolitan covid hotspot and was flooded with covid cases, while less than a dozen covid patients have entered Goulburn's ICU over the entire pandemic.
ICU patients with covid have included people with immune deficiencies due to diabetes and cancer treatment, and even from steroid use for bodybuilding, says Dr Nalos.
Treatment for covid patients follows clinical taskforce guidelines, he says, but in certain cases there's a lot going on, so having a range of treatment options is important.
"For example, recently I treated a patient with leukaemia, who is unable to tolerate vaccines, doesn't produce antibodies and needed IV immunoglobulins to give her immune system some competence, and unfortunately she became infected with covid," he says.
The patient was infused with casirivimab + imdevimab (Ronapreve) and responded well, he says.
He also expects supply of molnupiravir within a fortnight, but says concern around its impact on people of reproductive age means it will be reserved for over-50s.
US experience with new MABs and antivirals
Dr Cassandra Calabrese is a rheumatology and infectious disease specialist at Cleveland Clinic in Ohio, in the US.
Several counties in Ohio had vaccination rates below 35 percent at 31 Jan 2022, while in Cleveland just over 60 percent of the population was fully vaccinated.
"We're amid a terrible surge, the likes of which we have not seen since the pandemic started, and it hit my part of the country first – the mid-west then Ohio," she says.
Her hospital is "nearly overwhelmed" by unvaccinated patients seriously ill with covid. "But there is a clear decoupling of this huge case count and vaccinated persons," she says.
Dr Calabrese says that many of her rheumatology clinic patients are immunocompromised, and while largely vaccinated, a positive covid diagnosis poses serious threat.
"We're really trying to mitigate risks and focus on the resources we have to treat these patients in an outpatient setting," she says.
"While vaccination is the first line of defence, for certain groups – such as cancer patients undergoing active treatment and organ transplant patients – the vaccine is not enough to protect them from severe covid," she says.
"For this group, we're pretty excited about a new drug called Evusheld, combining tixagevimab and cilgavimab, which is the first monoclonal antibody combination authorised for pre-exposure prophylaxis," she says.
Evusheld received Emergency Use Authorisation (EUA) in the US at the end of last year after trials demonstrated the effectiveness of antibodies that bind to the spike protein at two different sites, stopping the virus from entering the body's cells.
"A week ago, we went live using Evusheld in our institution, so we are in the thick of it, and I'm in charge of this rollout for the rheumatology department."
Introducing this new drug has been challenging, she says, requiring a whole new workflow and new consent arrangements, because the drug is being used under EUA.
"Also, it's for patients who don't have covid, but who have risk factors for getting really sick if they have covid and who aren't expected to have had a great response to the vaccine," she says.
This potentially includes a lot of patients such as immune-mediated inflammatory disease patients, particularly those on B-cell depleting drugs like rituximab, she says.
"We now have endless amounts of data showing how poorly B-cell depleted patients do when they get covid, despite being vaccinated, because they don't have the humoral immune system to respond to the vaccine or to fight infections," she says.
Dr Calabrese says that the clinical trials that led to Evusheld's approval demonstrated significantly reduced risk of developing symptomatic covid by up to 80 percent, over six months.
"While it's really exciting, our biggest challenge is that the resource allocation was determined by the government, and the state of Ohio got nearly 2000 doses," she says.
"Just within the Cleveland Clinic hospital, we have more than 6000 patients who are in the highest tier of risk, such as B-cell depleted patients, recently transplanted patients and patients actively receiving chemotherapy," she says.
Her department had to lobby for their highest-risk patients. "Just as an example, we probably have over 1000 rituximab-treated patients in our department – and we got 130 doses."
Hard decisions had to be made, she says, adding that it has been a very stressful time.
"We focused on being ethical and being fair, we focused on patients who were on rituximab who had additional risk factors, whether it be age and other comorbidities, lung disease and so on," she says.
So far, she says, patient tolerance has been excellent, with few side effects.
The drug is delivered as a single-dose intramuscular injection which lasts six months – adding another ethical quandary.
"Do you give some people multiple doses, or do you give more people one dose? That's a hard one," she says.
Other drug options
Vaccines and monoclonal antibodies are free to patients, she says, and more doses of Evusheld have been promised, but there's no clarity on when the supply will firm up.
Other medications on the horizon that are promising for high-risk immunocompromised patients are two new oral antivirals that also gained EUA for covid treatment in December 2021, nirmatrelvir + ritonavir (Paxlovid) and molnupiravir.
"These drugs are even more challenging to get hold of than Evusheld," she says. "One of the other big hurdles is they need to be given early, so when supply does happen, patients need to advise us they test positive within five days, then we have to order the drug and find a pharmacy that can get it – there's lots of hurdles."
Trials of molnupiravir were underwhelming compared to Paxlovid, with one study showing that a five-day course of the latter taken within five days of symptoms could reduce risk of hospitalisation or death by 89 percent.
"The downside is that Paxlovid has lots of drug interactions," Dr Calabrese says. The presence of protease inhibitors makes Paxlovid unsuitable for HIV patients, and for patients on statins, steroids or anti-coagulation medications.
Despite molnupiravir's comparatively unimpressive 30 percent reduction in relative risk of covid-associated hospitalisations or deaths over placebo, it may be one of the few options to treat immunocompromised patients who contract covid, she says.
"The more we have in our toolbox to protect patients from severe covid, the better."